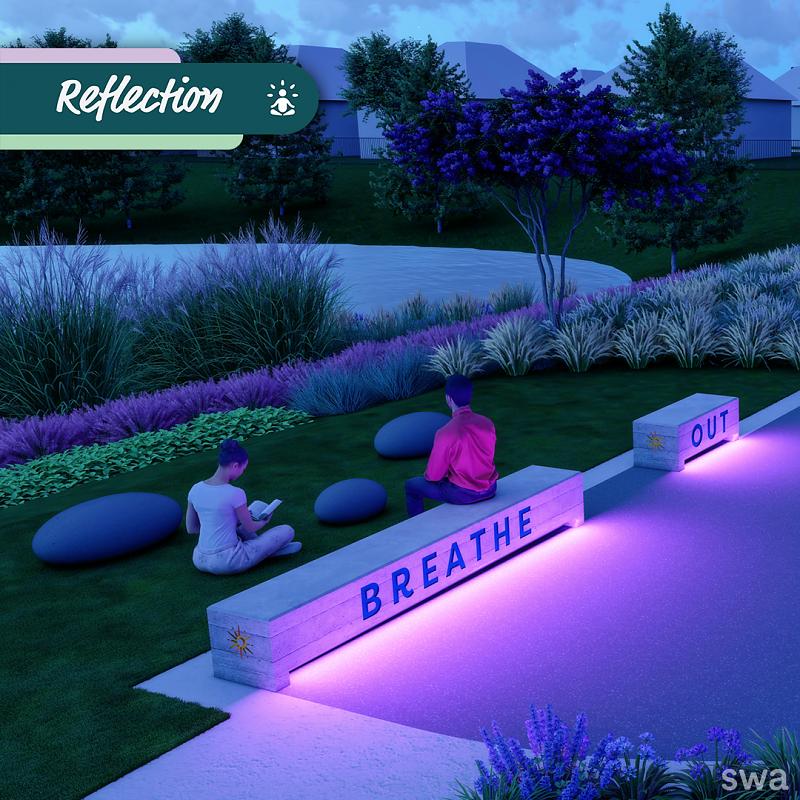 Jubilee Incorporates Wellness Zones into Master Plan
Four pillars of wellbeing — connection, exploration, reflection and inspiration — are being incorporated into the design of Jubilee, the new Johnson Development community that is being developed around the concept of holistic wellness.
These concepts are being introduced as wellness zones within Jubilee — strategic spaces intentionally designed to serve specific purposes for residents.
"These zones will be found throughout Jubilee, giving residents easy access to whatever they might need at the moment, whether it be being around people, spending time in nature or having a quiet spot for introspection," said Haley Peck, Director of Marketing.
Connection zones will provide programmed spaces that bring residents together, either organically or through events planned by the community's lifestyle director. The amenities and events will encourage people to disconnect from the digital world, allowing them to be more in the moment.
The exploration zones will help residents engage safely with nature. Beyond parks and natural areas, there will also be barefoot zones for grounding.
"We want to do more than simply provide a green space," Peck said. "We want to create areas where residents can engage in ecotherapy, interacting and learning from nature."
Reflection zones will be quiet areas that allow residents to decompress and practice mindfulness. Supporting this ideal will be resident events for meditation and breathwork.
Inspiration zones are being built to spark energy and imagination. Bright, interactive playscapes will inspire and invigorate children, while other areas are being designed to ignite the playfulness in adults.
Future amenities are also being designed around the concepts of wellness, Peck said.
With a pool, event lawn and clubhouse, the Joy Hub recreation complex will be a place where residents gather. Positivity Park will aim to inspire, with a signature play structure and iconic pavilion. The Happinest nature park will invite exploration while showcasing the area's rich natural diversity. Learning stations will be throughout the Happinest to educate people on the flora, fauna and ecology of the land.
Along with these signature amenities, Jubilee will eventually boast 30 acres of parks, 270 acres of green space and waterways, robust walking trails, community gardens, a dog park, sport courts and more.
"The wellness zones and how the amenities are being laid out are examples of the intentional design we are incorporating into every facet of Jubilee," said June Tang, Vice President and General Manager of Jubilee.
Residential blocks have been thoughtfully reconfigured to create convenient cut-through trails, providing residents with shorter walking distances to wellness zones and other amenities.
"We want Jubilee to resonate joy in every corner and be a place that empowers our residents to lead happier, healthier lives," said Tang. "Our commitment to community design remains unwavering, continually focused on enhancing the well-being and quality of life for our residents."