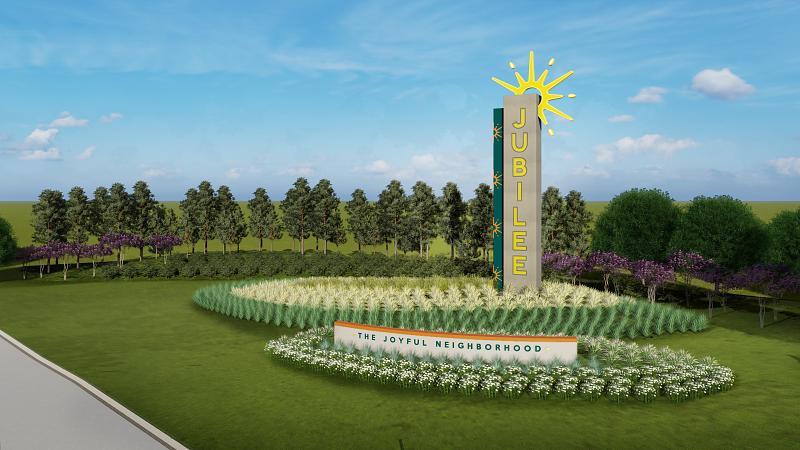 Jubilee Construction Taking Shape
Johnson Development has begun construction on Jubilee, a new community northwest of Houston that puts wellness at the forefront of its design.
Situated on 1,622 acres in Hockley just south of Highway 290 and a few miles from the Grand Parkway, Jubilee is being developed around the concept of holistic wellness with the goal of redefining community living, says June Tang, Vice President and General Manager of Jubilee. Planned for approximately 4,900 homes, it will have nearly 30 acres of parks and amenity space as well as more than 270 acres of greenspace and waterways.
"Every facet of Jubilee is being developed with purpose," Tang said. "From the street layout and amenities to the home offerings and lifestyle programming — every aspect will be dedicated to nurturing our residents' overall well-being. Our mission is to profoundly enhance the lives of individuals who live there."
Jubilee's first phase will comprise 491 homesites in a variety of sizes — 40-foot, 45-foot, 50-foot and 60-foot. The model home park will showcase eight models, providing a glimpse into the exceptional living experience Jubilee has to offer, Tang said. Additionally, plans are underway for an amenity center that is slated to start construction in 2024. Home sales are slated to begin in early 2024, with pricing and builder announcements expected in the near future.
Jubilee is distinguishing itself through a commitment to intentional community design, said Haley Peck, Director of Marketing for Jubilee.
"We are considering every detail, no matter how seemingly small or grand, to ensure Jubilee becomes a place where joy resonates in every corner," she said. "We want to foster a positive atmosphere that empowers our residents to lead happier, healthier lives. That's why we aptly named the community Jubilee, symbolizing the immense joy we know it will bring to people who call Jubilee their home."
Jubilee is the latest Johnson Development community to start construction. Two other new Houston-area communities were recently announced and have plans underway.
Established in 1975, Johnson Development has had more communities ranked among the top-selling than any other developer in the nation over the past decade. For more information, visit www.johnsondevelopment.com.