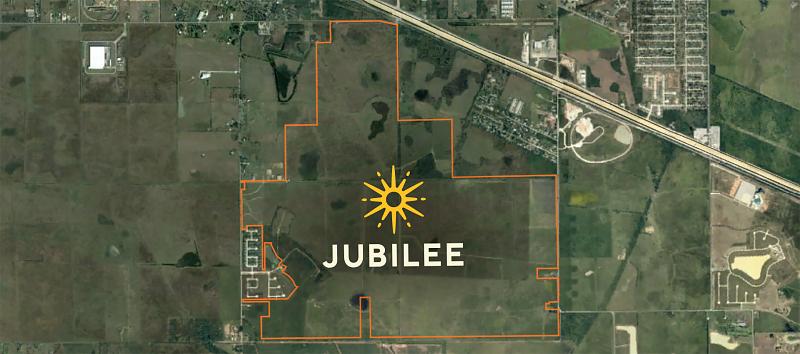 Johnson Development Announces New Northwest Houston Community
Home is where the heart is and Johnson Development is working to ensure its newest community will be where residents can find joy.
Jubilee, a 1,620-acre community in Hockley just south of Highway 290 a few miles from the Grand Parkway, will be centered on joy, with a focus on improving residents' physical, emotional, and mental well-being.
"We want to raise the bar for how a community can better the lives of the individuals that live in it," said June Tang, General Manager and Vice President of Jubilee. "Every aspect of this new community is being intentionally designed to promote positivity, allowing residents to decompress from the everyday grind and connect with nature and each other."
The development team is taking a holistic approach to the community's design, targeting everything from the layout of streets, placement of parks and amenity architecture to spark happiness and surround residents with positivity. Positivity also was a deciding factor in the community's name.
"Jubilee has multiple positive interpretations," said Haley Peck, Marketing Director of the community. "It represents joy, is energetic and has nuances of community. These concepts will be well represented in the mindful spaces we are designing for residents.
"Connection with others is proven to enhance a person's well-being and Jubilee will be all about helping residents feel happy and healthy."
Planning for Jubilee started well before the pandemic, but Tang admits its vision is particularly impactful now.
"The pandemic has turned our focus to health and has shown us just how important where you live can be," she said. "Imagine living in a home that has all the room you need in a community specifically designed to elicit peace and harmony. It's something we can all use right now."